Chandler
---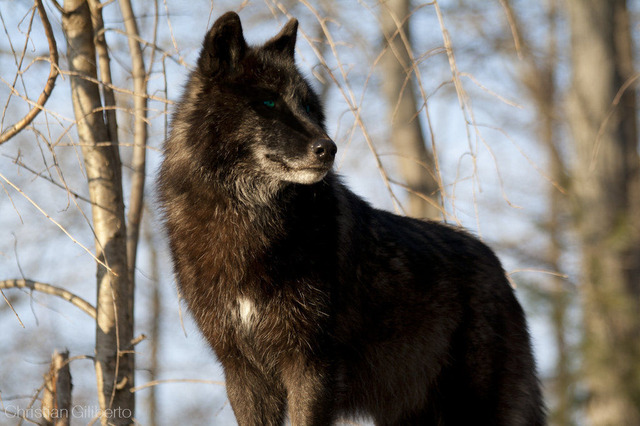 ---
Nicknames/Alias:
None
Sex:
Male
Sexual Orientation:
Heterosexual
Age:
2 years
Sardothien or Pixduas?:
Pixduas
Species:
North American Grey Wolf
Rank:
Warrior
Crush:
TBA
Mate:
TBA
Pups/cubs:
TBA
Eye Color:
Gray-Blue
Special markings/scars:
Scar across his left eye
General appearance:
Chandler has dark brown fur that is usually associated with the color of dark chocolate. His eyes are a grayish-blue that seem to sparkle in the sunlight. He is a rather long-legged wolf, and he is fairly slim in build. Chandler may be rather slim for a wolf his age, but he does not let that stop him from doing his part for the pack.
General personalty:
Chandler has many different traits in his personality; his major traits are Determination, Loyalty, Honor, and Strength. However, he can be rather stubborn and aggressive if necessary. Lastly, Chandler is very gentle and is a smooth-talker.
Likes


Being involved in the preparation of battle plans



Helping the younger wolves find productivity

Dislikes


When arguments/discussions don't go his way



Not being involved in the pack's battle plans

History:
Chandler was born into a different pack; his parents, William and Gail, are now deceased. Growing up in his birth pack was brutal for Chandler, as he was usually thrown around by the older wolves, which resulted in him being the last to eat. When he was doing battle training, another trainee intentionally scratched him in the left eye, which left a scar down his face and caused him to lose the sight in that eye. After leaving the pack, he stumbled upon the Pixduas pack and was accepted warmly as a Warrior.
Family:
Mother: Gail (deceased)
Father: William (deceased)
Siblings: Grayson (alive- location unknown)
Application keys?:
Members Work...
Do NOT copy other members characters! That is rightfully theirs and is considered plagiarism. Anyone found copying others will be given a warning if they continue they will be banned for a limited time. Hopefully, this warning is warning enough. If you read this far, type this in your biography: Smiffles.
We're Semi-realistic...
Seeking Redemption is a semi-realistic literate site. Therefore we allow unrealistic markings and eye colors, however, we do NOT allow hand drawn or anime characters. Please use realistic canine or feline images. There you can manipulate the photos to your heart's content. Markings or unrealistic accessories MUST be purchased from the bone pile shop.
Consistent Personality...
Please roleplay to your characters personality. So an arrogant character won't just "become" non-arrogant. Keep to your characters personality to the best of your ability.
Age...
When creating a bio, your character MUST be 2 years old or older. If you want a character below the age of two you'll have to purchase the Youth item from the Bone Pile Shop or adopt a pup in need of a role-player.
Out On Your Own...
If you want to create a loner or rouge, you MUST purchase the item at the store. If you submit a bio without purchasing the item, then your bio will be denied.
(I hope this is correct????)
How did you find us?:
WolfQuest Thread
Other characters:
N/A
Roleplay post:
Chandler strolled out of his nest and into the clearing, giving his fur a thorough shake. Stretching his long legs, he yawned widely, then padded over to the prey and selected a rabbit to eat. Once he had eaten his rabbit, he strolled over to the higher-ranked wolves and greeted them with a respectful head bow. "Greetings. Is there anything that you would like me to do?"